HISTORY
Jerry Pols jump-started his plumbing career at Godwin Plumbing in 1971 being one of the first 13 employees to be hired.  He worked as an apprentice and shortly after earned his journeyman license.  In 1987 he received his master plumbing license.  Jerry worked his way up and eventually was brought into the office doing project estimating.
In 1995 he made the decision to leave Godwin Plumbing and created Action Plumbing & Heating along with his partner from Godwin Plumbing.  In 2006 he chose to create a family business and started Accurate Commercial & Residential Plumbing.  Experienced commercial employees were selected and from that moment on he began a new quest in quality commercial plumbing.
Presently, ACR plumbing (aka Accurate Plumbing) is backed with 82 years of experience in addition to our qualified foremen who provide excellent on site workmanship.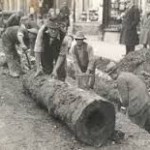 OUR TEAM
Our office staff provides customer service and support to our contractors and employees.  Our team is also supported by an estimating department using top of the line digital take-off programs for precise estimating & design build projects.
Sally Pols – President
Jerry Pols – Vice-President
Brian Pols – Estimation, Project Management & Safety
Jason Kroll – Project Manager
Sara Geers – Office Manager
Accurate Commercial & Residential Plumbing is located at
4224 Morren Street, Wayland, MI 49348